If you're trying to market your company without a strong web presence, you're already failing.
---
This course was created for businesses that do not currently have a web presence or a new web presence. This course will show you how to develop a strong, fully functioning, scalable web presence -- NOT just a website. In this course you will learn:
Components
About the components that make up a web presence, website, and web page
The Formula
What ingredients are included in the formula of a successful web presence
Domain Names
How to select the best domain name and domain extension for your website
Types of Website

About the types of website you can create and learn which one is best for your needs
Tools

About content management systems and discover the best CMS tool for your website
Website Hosting

How to select a website hosting package and find the best website hosting company
Course Objectives
So what is a web presence and how do you create one? This course is the answer to that question. The objectives of this course are to:
Give a brief historical overview of the Internet and how it came to be
Describe the components of a website and a web presence
Explain what a content management system is and how it can be used to develop your website
Uncover the mysteries of website hosting, and explain what you should look for in a website hosting package
Course Audience
This course is perfect for anyone in business who is interested in expanding your company's reach and influence on the Internet. This is a beginner level course.
Sooooo, why should you take this course?
If your business is not online, your company can't be as successful as it should be. Bold statement, I know. But truthful nonetheless. Business is a numbers game, and being successful in business boils down to sales. If the sales are high (and of course expenses are low), your business will be successful. The math is simple, but the process of getting there is anything but.
One of the first steps to take in creating a successful business is creating a web presence. But most business owners are unaware that building a web presence is not the same as building a website. Your company's website is only one part of your web presence and if you only focus on developing a website, you will dilute the potency of your influence, limit the extent of your reach, and essentially reduce your earning potential.
But Who Am I?
---
It's only natural that you would want to know my credentials before taking a course from me and I totally understand that! So, allow me to introduce myself...
Hi! I'm Jessica Davis, it's nice to meet you.
I've spent the past 15 years working in the digital strategy industry. While I began my career in website design, my passion has always been to help businesses expand their reach through web-based strategic thinking. Come over to my website and check out other ways I can help you manage your business.
Throughout my career I've worked in several capacities across many verticals including digital marketing, usability, social media, and web analytics. This unique experience mix allowed me to connect the dots between these industries and create customized strategies that work for individual organizations.
I began my career as a Web Technology Analyst for a local bank in Michigan. After completing college, I moved to North Carolina and began working with a digital marketing company. It was during this position that I cultivated my love for small and medium businesses. By 2008, I'd found my calling in digital analytics and have worked every day since, to bridge the gap between technology and marketing; translating the foreign language that often confuses businesses and throws them off course.
And there you have it! If you have more questions about this course, feel free to e-mail me at [email protected]. Otherwise, go ahead and enroll in this course and be on your way to a strong, successful web presence.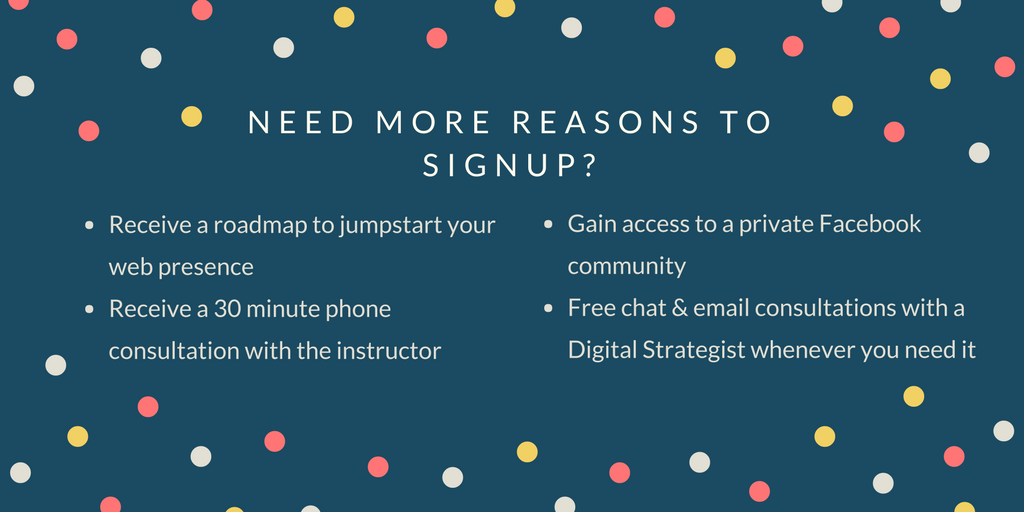 Course Curriculum
Introduction
Available in days
days after you enroll
Statistics
Available in days
days after you enroll
Components of a Web Presnce
Available in days
days after you enroll
Frequently Asked Questions
When does the course start and finish?
This course does not have a specific start and end date. It is completely self-paced.
How long do I have access to the course?
You will have access to the course, live chat consulting with a Digital Strategist, and private Facebook community for one year. You can always subscribe to the course again after your subscription has ended.
Can I request a refund?
Absolutely! We offer a 30 day money back guarantee.
What's included with the course?
In addition to accessing the content within the course, you also get office hours with the instructor, a free 30-minute consultation to help you get started in the course, a roadmap to success infographic, and access to a private Facebook community.
Do I really get free consulting?
Yes, you will have access to the instructor, an experienced Digital Strategist. Receive live chat and email consulting anytime you need it. You can ask her any question you have about managing your business online. On average, you would normally pay $100 - $150 per hour for consulting fees, but you get consulting for free with your course!